Columbia
LOCATED IN Lee's Parke
Single-Family Home
Fredericksburg, VA
Spotsylvania County School District
1
OF
58
2
OF
58
3
OF
58
4
OF
58
5
OF
58
6
OF
58
7
OF
58
8
OF
58
9
OF
58
10
OF
58
11
OF
58
12
OF
58
13
OF
58
14
OF
58
15
OF
58
16
OF
58
17
OF
58
18
OF
58
19
OF
58
20
OF
58
21
OF
58
22
OF
58
23
OF
58
24
OF
58
25
OF
58
26
OF
58
27
OF
58
28
OF
58
29
OF
58
30
OF
58
31
OF
58
32
OF
58
33
OF
58
34
OF
58
35
OF
58
36
OF
58
37
OF
58
38
OF
58
39
OF
58
40
OF
58
41
OF
58
42
OF
58
43
OF
58
44
OF
58
45
OF
58
46
OF
58
47
OF
58
48
OF
58
49
OF
58
50
OF
58
51
OF
58
52
OF
58
53
OF
58
54
OF
58
55
OF
58
56
OF
58
57
OF
58
58
OF
58
Thank You!
Thanks for signing up for our VIP List. We appreciate your interest and we'll get back to you soon.
Danielle
571.378.3950
We're Sorry!
There seems to have been a technical error submitting your information. Please give me a call and I'll help you as best I can.
Danielle
571.378.3950
Hi! I'm Danielle
If you have any questions about the community, our home models, locations and more, just click the Contact button. Click on it any time throughout our community site and I'll be happy to help!
About the Home
We've all met someone who's good at everything. Successful career. Lots of friends. Perfect golf swing. The Columbia is like the home version of that person. More than just great looking, it's smart and versatile, with a spacious, inviting floorplan. The Columbia adapts to fit your life – functional, but never stuffy. A variety of gorgeous exteriors all come with a covered entry. Several areas in the home can be whatever you need them to be. For starters, the flex room can be your living room, dining room or a study with French doors. The family room flows into the kitchen and dining area, so you can grab a drink without missing the conversation. Add a covered porch for those warm summer evenings, or a fireplace for chilly winter ones. Weather taking a turn for the worse? The family entry protects your floors and furniture from muddy shoes and wet clothes. On the second floor, four large bedrooms await. In the owner's suite, there's a huge, walk-in closet and your own luxurious bathroom. And as most of your clothes begin and end their day on the second floor, the laundry room is up here, too. Finally, a finished basement that can include a full bath and bedroom. So no matter what you need from a home, the Columbia more than delivers. "My wife and I love that we can both work from home without getting in each other's way." Jeff H, Columbia owner

Read More

Read Less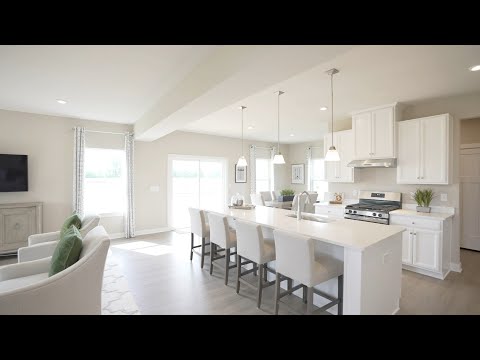 Peace of Mind Built In
A better-built home enhances your life. Our whole-home approach to performance and efficiency providing you the highest levels of comfort while lowering your monthly energy costs by up to 30%.
LEARN MORE